GMA Network Inc. signed a co-production deal today, November 9, to produce the Filipino version of the widely successful television series Boys Over Flowers.
The Kapuso Network teamed up with JU Entertainment Movie and Drama Inc., a Philippine company with Korean counterpart.
Boys Over Flowers was based on the Japanese manga series Hana Yori Dango that tells the story of a spunky school girl who receives a scholarship grant to enter a prestigious academy. She then captures the interest of four rich, popular and handsome guys collectively known as F4 (short for Flower 4).
The said series has been locally produced in several countries such as Taiwan, Japan, and Korea.
The F4 members of the original series were: Lee Min-ho as Gu Jun-pyo, Kim Hyun-joong as Yoon Ji-hoo, Kim Bum as So Yi-jung, and Kim Joon as Song Woo-bin.
GMA Network First Vice President for Program Management Jose Mari Abacan is happy to be airing the Philippine adaptation of the said TV series that catapulted the careers of some of today's hottest Asian stars.
"We're very pleased to announce that we are doing our own version of Boys Over Flowers in partnership with JU Entertainment Movie and Drama Inc. It's a huge project and we promise to give our viewers something to look forward to soon."
He also added that there will be a nationwide audition to find the cast members of the Pinoy series.
"In order for us to find the actors who will portray the coveted characters in the series, we will have a nationwide open casting call that will give equal chance to talented individuals who want to be part of this highly anticipated project."
"We hope that we live up to their expectations and I know the talent of the Filipinos is something to be proud of worldwide so I'm sure that we won't disappoint," adds GMA Films and GMA Worldwide Inc. President Annette Gozon.
Meanwhile, JU Entertainment Movie and Drama Inc. Chief Executive Officer Son Jong Wook looks forward to a successful partnership with GMA Network.
"I would like to thank GMA for the partnership. Looking forward to a fruitful relationship with the Network and we are all excited with this project."
Also present at the contract signing were JU Entertainment Movie and Drama Inc. Vice President Oh Jae Jun, Cube 9 Entertainment Chief Executive Officer Lee Dong Hee, and Cube 9 Entertainment Vice President Kim Jae Sung.
The project is slated to begin production soon.
Also start end of November public audition at GMA network soon.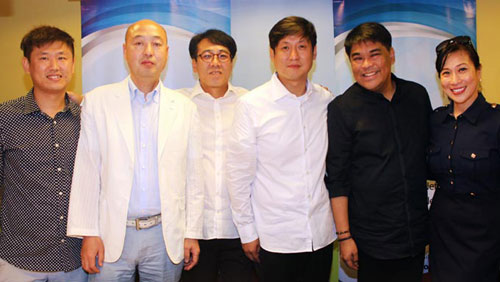 Kim Jae Sung, Lee Dong Hee, Oh Jae Hun, Son Jong Wook, Jose Mari Abacan and Annette Gozon signed a co-production deal to produce the Filipino version of Boys Over Flowers.