South Korea is making a national push to reshape its economy around a concept called "untact." Developed by a group of local consumer science gurus in 2017, untact envisions a future where people increasingly interact online and companies replace humans with machines to immunize themselves against the effects of rising wages and a rapidly aging workforce.
When the Covid-19 pandemic hit, that future became the present: Untact has become a key plank of President Moon Jae-in's 76 trillion won ($62 billion) "New Deal" program. The name is of course a nod to the patchwork of stimulus measures that helped the U.S. overcome the Great Depression. While South Korea hasn't experienced a slump of that magnitude, economic growth has been sluggish in recent years, averaging 2.9% a year since 2010, compared with 4.4% annually from 2000 to 2009. The government anticipates growth of 0.1% in 2020, but the central bank and private economists are forecasting a contraction, the first since the Asian financial crisis in the 1990s.
A 136-page report released this month detailing Moon's program mentions untact 47 times. Pledging to create 550,000 new jobs, the plan envisions investments in remote work systems for 160,000 companies, a high-speed internet infrastructure to connect 1,300 farming and fishing villages, and tablet PCs for 240,000 students. The report also calls for further investment in robots, drones, self-driving vehicles, and other technologies that will reduce the need for person-to-person contact.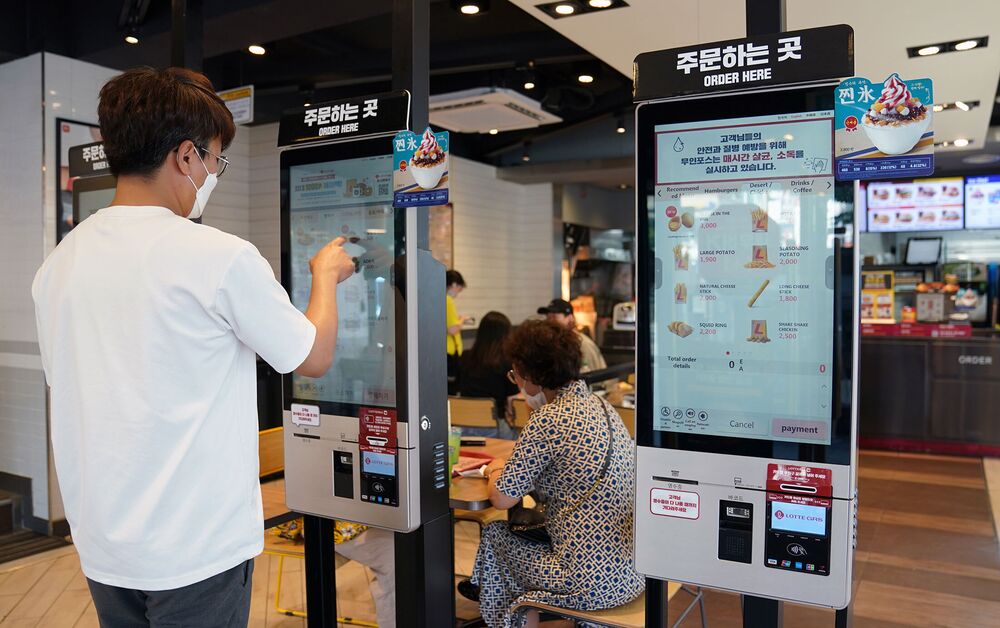 While other governments are ramping up spending to revive their economies, South Korea wants to leverage stimulus to improve its competitive position, particularly vis-a-vis China. The country's policymakers and business leaders have a history of working together to stake out key positions in global supply chains, often by claiming territory ceded by other countries.
Cars are a case in point. In the 1980s, when automakers in Japan and Germany went upscale, partly in response to U.S. import quotas, South Korean peers such as Hyundai Motor Co. stuck with making small, affordable, fuel-efficient cars that slowly but surely accumulated market share as their reliability improved. Something similar happened with memory chips. As makers of semiconductors in the U.S. and Japan migrated away from what had become a low-margins segment, South Korean companies like Samsung Electronics Co. and SK Hynix Inc. moved in. Both profited greatly from the surge in demand for memory chips when sales of mobile phones took off.
More recently, China has muscled into industries where South Korea is strong, including TVs, semiconductors, mobile phones, and shipbuilding. China's leadership is also doling out generous incentives as part of a plan to achieve dominance in leading-edge sectors such as artificial intelligence and alternative fuel vehicles by 2025.
Beijing's ambitions have provoked tensions in Washington and other capitals. Moon's economic program includes policies to reduce South Korea's reliance on China as an export market and offers incentives to Korean companies for "reshoring." Some elements of the plan also seem designed to stir up nationalistic sentiment, such as the pledge to raise an army of 100,000 specialists in AI. That harkens back to an oft-told tale of how a king five centuries ago didn't heed a warning from a scholar to train an army of 100,000 soldiers, enabling Japanese samurai warriors to rampage across the land.
Kim Rando, a professor of consumer science at Seoul National University who led the team that coined the term "untact," says South Korea's record of embracing new technologies and its relatively small size may allow it to quickly become a leader in the emerging field. "What is a niche often becomes mainstream sooner or later," he says. "Covid-19 will probably compel many nations that have been nonchalant about untacting technology to take this trend seriously."
South Korea already ranks No. 2 worldwide in the density of robots in manufacturing, according to the International Federation of Robotics, with 774 installed for every 10,000 workers. The comparable figure for Germany is 338, and in the U.S. it's 217. Moon's goal of raising the minimum wage to 10,000 won an hour (vs. 8,590 won now) has spurred fast-food restaurants and convenience store operators to dial up investment in automation. Lotteria, the top hamburger chain in the country, has installed self-ordering kiosks at more than half its locations, while retailers Emart24 and Korea Seven have been experimenting with cashierless outlets for a few years.
Moon has political and economic capital on his side. His coalition scored a landslide victory in parliamentary elections in April, which makes passage of a third supplementary budget to fund the New Deal likely. The administration has already secured approval for some 24 trillion won in nonbudgeted spending this year.
South Korea is expected to post a deficit equal to 4% of GDP this year, the first shortfall since the global financial crisis. The central bank has slashed interest rates to a record low of 0.5% and is gearing up to absorb trillions of won in government bonds to back Moon's initiatives.
The private sector is getting in on the act, too: There's now an investment fund with "untact" in its name run by an affiliate of the country's biggest conglomerate. "Untact sums up the direction in which the world is changing fundamentally," says Jeong Dae-ho, who runs the fund at Samsung Asset Management Co. "The coronavirus will accelerate the shift to a so-called remote world."
One company Jeong is keeping an eye on is Seoul-based Rsupport Co., which has the largest share of the market for remote working software in South Korea and Japan. The company says use of its service has multiplied as much as 44 times this year, and its share price has tripled. "The coronavirus demands the world accelerate its transition to a contactless society because it will never be the same even after it returns to normal," says Seo Hyung-su, Rsupport's founder and chief executive officer. "With just enough government support, untact could be the stepping stone for a variety of technology businesses to go mainstream."

Read next: China Millionaire Livestreamer Viya Shows Online Shopping FutureBOTTOM LINE – With an edge in robotics and telecommunications, South Korea seeks to position itself in remote work via a massive new spending plan.Before it's here, it's on the Bloomberg Terminal.